Message From the Director General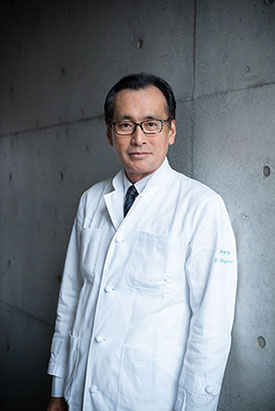 Hospital Director General: Yuko Kitagawa
In 2017, we celebrate the first centennial of the Keio University School of Medicine as we make plans for the next 100 years. Keio University Hospital, which opened in 1920 just three years after the establishment of the School of Medicine, is currently constructing Building 1, a new hospital wing, in anticipation of its 100th anniversary in 2020. This new wing marks a new era for Keio Medicine and is slated to be fully operational by 2018. Keio University Hospital will finish all remaining maintenance work and stand ready to face the next century by 2020, in time for the Tokyo Olympic and Paralympic Games. As medical professionals, it is a true joy for us to be able to provide our patients with the best possible medical care in the best possible environment. Keio University Hospital is located in one of Tokyo's greenest, most central, and easily accessible areas, in close proximity to the Meiji Jingu Gardens and the Shinjuku Gyoen National Garden, as well as the new National Stadium that will host the Olympic and Paralympic Games Tokyo 2020.
The hospital sits on an extensive campus of more than 6 hectares, and consists of 31 medical departments and 30 central medical divisions with more than 900 clinicians (including residents). We welcome around 3,000 outpatients from around the country daily, in addition to approximately 800 inpatients. We see more than 17,000 emergency patients annually and average around 14,000 surgeries and operations per year. Along with providing care as an Advanced Treatment Hospital, we are also responsible for contributing to the development of regional health care through coordination and personnel exchange with over 100 affiliated hospitals throughout Japan.
In 2016, Keio University Hospital was accredited as a Core Clinical Research Hospital. While there are now 11 such hospitals nationwide, we are still the only private university hospital to receive this accreditation. As a Core Clinical Research Hospital, we are committed to putting patient safety first and making key contributions to the development of global health care through the creation of new advanced treatments. And we of course continue to focus our efforts on the hospital's mission: (1) to provide compassionate, reliable, patient-centered health care; (2) to develop and provide advanced medical care and ensure its quality and safety; (3) to foster the development of medical professionals who possess intellectual depth and compassionate understanding; and (4) to contribute to the welfare of mankind through ethical medical science and medical care.

Since its opening, Keio University Hospital has embodied the aspirations of Shibasaburo Kitasato, the inaugural Dean of the School of Medicine and the hospital's first director, who sought to achieve medical excellence that unifies basic research and clinical practice, bound by a common devotion for the study and practice of medicine and based on Keio founder Yukichi Fukuzawa's principles of independence, self-respect, and jitsugaku, or empirical science.
Here at Shinanomachi Campus, the School of Medicine, Faculty of Nursing and Medical Care, and Faculty of Pharmacy will stay united as we unlock the future of medicine and continue to provide the latest in medical care for all.

Keio University Hospital Director General
Yuko Kitagawa