Second Opinion Services
Second opinion refers to the evaluation of diagnoses and treatments by a second physician in order to further the patient's understanding of their condition and aid in selecting the most appropriate treatment.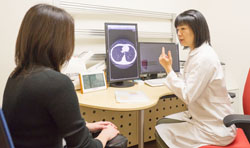 Second Opinion Services for Outpatients (by appointment only)
For outpatients who have received a full explanation of their medical condition at a health care center other than Keio University Hospital, we offer consultation regarding the diagnoses and treatments provided by their physician. The opinion thus offered is intended to aid the patient and their physician in determining the most appropriate course of treatment. Please note that to receive a second opinion you are required to first obtain a referral letter from your physician, and that no examinations or treatments are administered during consultation,.
Second Opinion Services
03-3353-1139
Eligibility Critera
Eligibility Critera
Family members with consent from an adult outpatient (only when the patient is unable to visit the hospital due to unavoidable circumstances)

If the outpatient is unable to sign the consent form due to their medical condition, please prepare a document proving said condition.

Guardians of underage outpatients

Consultation on mental health can only be provided for those over 70 years old with senile mental disorders.
Exclusion Criteria
A referral letter or other necessary documents are not prepared.
The applicant's primary care physician has not agreed to a second opinion.
Attending physicians who are able to provide a second opinion are absent from the hospital.
The applicant wishes to complain about their primary phyisician.
The applicant wishses to inquire about or file a medical malpractice lawsuit.
The applicant wishes to discuss a deceased individual.
The applicant wishses to discuss medical fees or health benefits.
The applicant does not have an appointment.
Please prepare your referral letter in Japanese or English, and be aware that we may not be able to provide a second opinion regarding your specific condition, or in your native language.
Physicians Providing Second Opinions & Consultation Times
If you would like to consult a particular physician, please specify this in the physician request section of the application. If your referral letter includes your primary physician's name, please write it in the document/referral section of the form.

Please note that we may not be able to accommodate all physician requests.

If your application is accepted, your consultant will be chosen from among our doctors based on their speciality. If your application is not approved, you will be contacted by phone.
The date and time of your consultation will be coordinated with your consultant's schedule. If you request a specific date or time, or are frequently unavailable, you may be unable to receive a consultation.
Fees
Second opinion fees are not covered by health insurance.
Consultation Fees
Up to 30 minutes
*Consultation time is usually 30 minutes, but can be extended up to 60 minutes if necessary.
22,000 yen
(tax included)
30 - 45 minute
33,000 yen
(tax included)
45 - 60 minutes
44,000 yen
(tax included)
Diagnostic Testing Fees
If your consultation results in additional diagnostic testing by an attending physician, those fees will be added to your consultation fees.
5,500 yen per examination
(tax included)
Above fees apply for a patient who reside in Japan ONLY.
Notes
If you would like to cancel your application, please contact us as soon as possible.
Appointments cannot be canceled or rescheduled.
Audio/video recording of consultations is not allowed.
Contact Information
Keio University Hospital Second Opinion Services
Monday - Saturday: 8:40 a.m. - 4:30 p.m. (closed 1st and 3rd Sat., Sun. and National Holidays)
Tel:

03-3353-1139

Fax:

03-5363-3865