Professional Development
Professional Development-Designing the Future of Health Care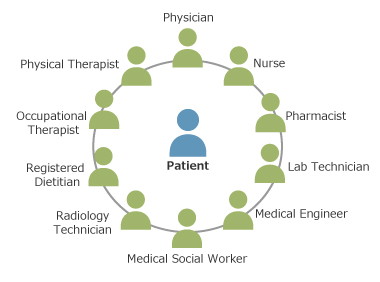 Visualizing Patient-Centered Care
Dr. Shibasaburo Kitasato, the first dean of the School of Medicine, and first Keio University Hospital Director, proposed that "close cooperation between the basic medical sciences and clinical medicine will unite us as one family." Keio University Hospital, with its proven track record of excellence, is playing a lead role in both clinical research and medical care by developing innovative treatments and delivering unparalleled care for each patient's unique needs.
In 2011, endowed with a strong sense of social responsibility, Keio University established an Inter-Professional Education (IPE) Program among three faculties in the medical sciences: the School of Medicine, Faculty of Nursing and Medical Care, and Faculty of Pharmacy. This program utilizes our cutting-edge facilities to enhance specialization, while at the same time taking a comprehensive, cross-disciplinary approach to training health care professionals who are able to looking deeply and make connections between seemingly disparate things. We are also contributing to the professional development of the wider medical community by actively responding to training requests from other universities and health care centers.
Keio University enhances specialization through its field-specific education programs, and in doing so is able to address the various requests that are received through the Division of Patient Support. We have organized project teams who deal daily with important issues, as well as working groups who oversee various aspects of the new hospital, which is set to open in 2017. Uniting separate fields allows us to take a patient-centered approach to solving problems in a comprehensive way. This kind of cross-disciplinary approach helps to clarify rules, implement hospital-wide standards, and allows our training programs to be practical and hands-on. Since the 2013 start of a paramedical training program that allowed for even further unity between fields, paramedical staff have continued to drive team-based care at Keio, creating a whole that is greater than the sum of its parts.
The principle of close cooperation between basic and clinical medicine that was championed by Dr. Kitasato remains relevant to this day as the backbone of Keio University Hospital's human resource development, which is rooted in a professionalism dedicated to defining the future of patient-centered care.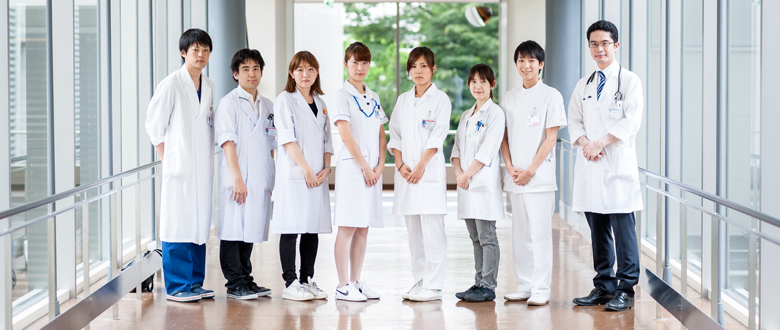 From left: Medical Engineer, Pharmacist, Lab Technician, Nurse, Radiology Technician, Physician (Junior Resident), Nurse, Physician (Senior Resident)