Imaging Service Center
Employing a digital image network system to provide image data in a CD-ROM format
In March 2008, Keio University Hospital transitioned to a digital imaging network system. Data is kept digitally, and physical films (CT/MRI scans, sonograms, x-ray images, etc.) are usually not produced.
The Imaging Service Center was established in September 2008 to provide patients with digital imaging data, mainly on CD. Likewise, patients are encouraged to bring digital imaging data (CD/DVD) rather than films.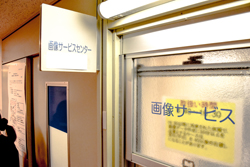 Hours & Contact Information
Hours

Monday-Friday:8:40a.m.-4:30p.m.

Because imaging data requires more than 30 minutes to process, requests made after 4:30p.m. may be issued the following business day.
Imaging data requests cannot be handled on the following days:

Closed

Sundays, 1st and 3rd Saturdays, Public Holidays, New Year Holidays (12/30 - 1/4), University Holidays (1/10 and 4/23)

Please note that we can only issue imaging data when requested by a physician.
Contact Information

For inquires about imaging services, please contact the Office of Radiation Technology.

Tel:03-3353-1211 ext. 62459