Message From the Director General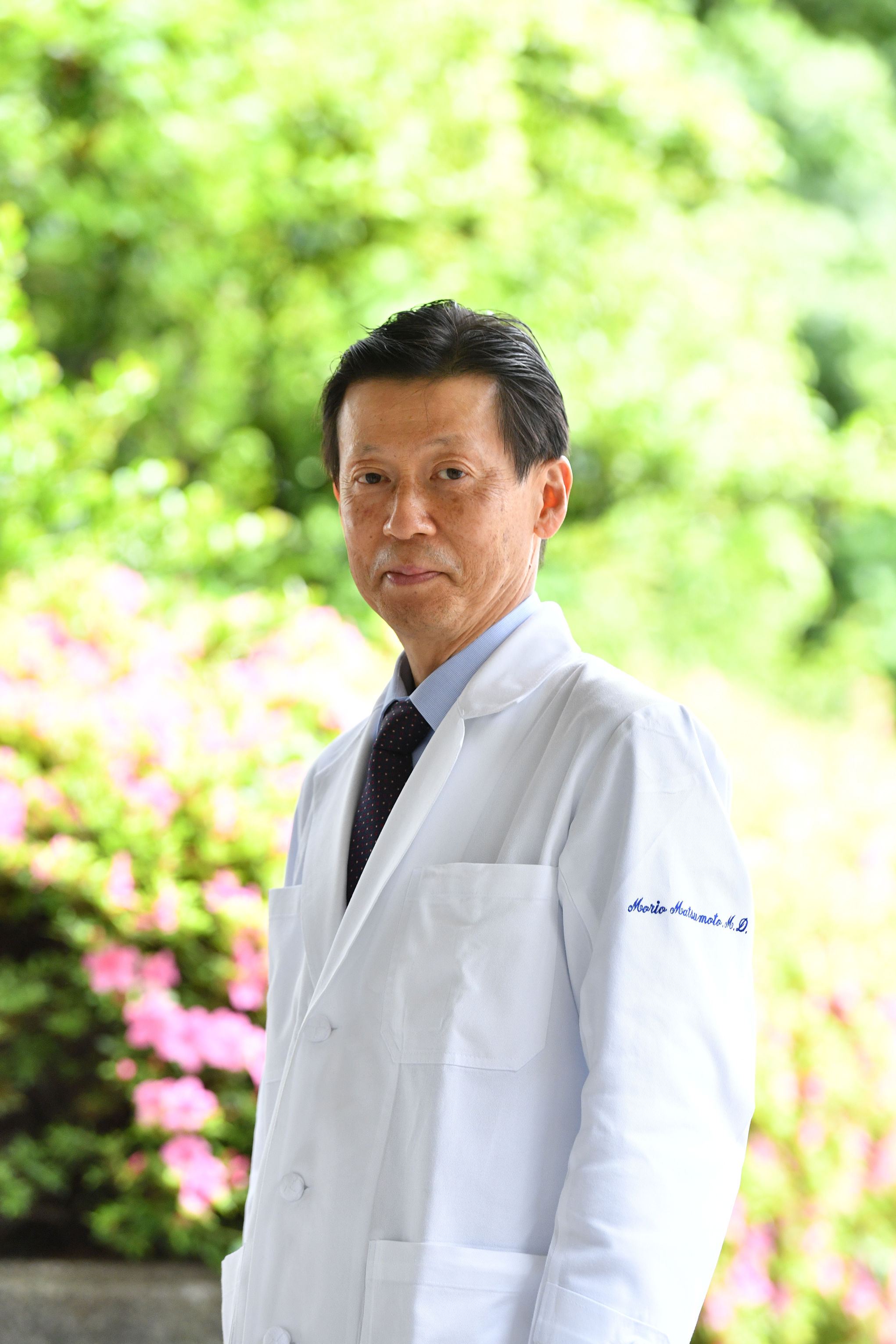 Hospital Director General:
Morio Matsumoto
Building 1, the hospital's newest addition, went fully operational in 2018 as we began renovations to Building 2 and Building 3. In 2022, we are planning further improvements to the hospital entrance and facade ahead of our grand reopening. On behalf of the Keio University Hospital faculty and staff, it is our greatest pleasure to be able to provide our patients with the best possible medical care in this brand-new environment.
More than a century ago, at the opening ceremony of the School of Medicine and Keio University Hospital, inaugural hospital director Dr. Shibasaburo Kitasato advocated for "close cooperation between basic and clinical sciences. In this way, we shall make it our unique mission to unite as one family and together devote ourselves to the study of medicine." This spirit has continued to guide life at the Keio University Hospital for the past century. In our outpatient clinics and inpatient wards, we have broken down the barriers between 31 medical departments to develop a group approach to patient-centered care. For intractable and difficult-to-treat cancers, immune disorders, and hereditary diseases, we provide advanced medical treatment Centers for Interdisciplinary Care, which consist of specialist teams from multiple departments.
Despite a temporary decrease in the number of patient treatments and surgeries in FY2020 amid the COVID-19 pandemic, we still managed to treat a total of 730,000 outpatients (an average of 2,678 patients per day) and 250,000 inpatients (an average of 669 patients per day). At the Surgery Center, a total of 12,280 operations (including 6,755 general anesthesia procedures) were performed in 25 operation rooms, each equipped with the most advanced medical devices. Operations include robot-assisted cancer surgeries, organ transplantations, and endovascular surgeries such as percutaneous catheter cardiac ablation. Dedicated elevators provide direct access from the Emergency Center to the Surgery Center and intensive care units (ICU/HCU), which allow us to provide rapid response and high-quality acute care. We are also focused on perinatal and pediatric care. We have a neonatal and pediatric ICU and are implementing new methods that include painless anesthetic delivery. In addition to contributing to the development of regional health care through coordination with our many affiliated hospitals throughout Japan, Keio University Hospital is also a disaster base hospital for the Tokyo area, prepared to serve as a hub for medical relief in the event of a disaster such as a major earthquake or terrorist attack.
As an Advanced Treatment Hospital, we provide safe, high-quality medicine and foster the development of medical, nursing, and pharmaceutical professionals who possess intellectual depth and compassionate understanding. Keio University Hospital was the first private university to be authorized as a Core Clinical Research Hospital, and we continue to promote close collaboration between the basic medical sciences and clinical medicine with the objective of developing Japan's medical sector through the advancement of innovative drugs, devices, and technology. Furthermore, with our designation as an Advanced Treatment Hospital and Regional Cancer Hospital, we provide treatments that include cancer genomic medicine based on gene panel tests. In 2018, we were selected as an AI hospital as part of the Cross-ministerial Strategic Innovation Promotion (SIP) Program and are currently collaborating with various companies to improve the efficiency and automation of advanced medical care for our patients through the application of AI, robot, and sensor technologies.
Since the beginning of 2020, our hospital has been adversely affected by the COVID-19 pandemic, but we were one of the first hospitals in Japan to introduce pre-admission PCR testing, putting in place thorough infection control measures to provide a safe medical environment for our patients. And with continued patient understanding and support, we plan to continue helping in the fight against the COVID-19.
The first line of the Keio University Hospital Mission states that our mission is to "provide compassionate, reliable, patient-centered health care." We understand that listening to our patients is the key to better care. Each and every member of our faculty and staff is united in providing safe, high-quality medical care and contributing to the further development of medical science.
Keio University Hospital Director General
Morio Matsumoto