During Your Stay
You are asked to share facilities with other patients during your stay. The purpose of hospitalization is to treat your disease. All the hospital staff members, including doctors and nurses are committed to providing support to you as well as your family.
Those who are to be admitted to or visiting a patient at the Obstetrics or Pediatric Units are also advised to see the following pages.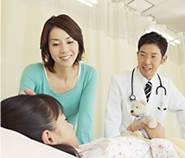 Hospital policies
Patient identification/Use of patient identification bands

We always verify patient identification before performing any procedure to ensure patient safety and the quality of care. During your stay, staff may ask you to give them your name, and to wear a patient identification band. Your cooperation is appreciated. An ID band will be put on in the hospital after verifying your identity. At discharge, it will be removed and discarded in the hospital.
Handling of valuables

Thefts are often reported in the hospital. We strongly recommend that you do not bring a large amount of cash or valuables to the hospital. We does not take responsibility for the theft or loss of valuables.
Meals

Meals are served by the hospital based on the directions of attending doctors and according to medical conditions of each patient. Please avoid eating extra foods (e.g. foods brought from your visitors) other than meals served by the hospital. Please inform us in advance if you have any food allergies.

(Meal times: Breakfast: 8:00-; Lunch: 12:00-; Dinner: 18:00-)

Example of meals
Hospital facilities

TV/laundry card

If you stay in a multiple-bed room, please purchase a TV/laundry card to watch TV. The card can be purchased from a vending machine located next to the elevator in each unit. The use of earphones is advised to watch TV. Please bring your earphones or buy at a shop in the hospital. The TV/laundry card can also be used for washer dryers placed in each unit.
You may receive a refund for the remaining balance on your card from the payment machine placed in front of the Admission Accounts Counter (Counter No. 24).

The use of electrical equipment that affects the power for medical devices is restricted during the hospitalization (TV, toaster oven, electric kettle, electric cooker, etc.).
Laundry

Washer dryers are equipped in each unit. You need to buy a TV/laundry card to use them. For the pay hospital cleaning service, please ask your attending nurse.

(Laundry room opening hours: 6:00-21:00)
Going out/staying out overnight

Doctor's permission is required to go out of the hospital. If you wish to go out, please request your attending doctor or nurse to obtain a permission in advance. Going out or staying overnight may not be permitted depending on your physical condition.
Tobacco free campus

Smoking is prohibited in the entire hospital campus to protect patients' health and prevent tobacco-related diseases. Your cooperation is appreciated.
Cell phones
Hospital Fee Payment
The account of the hospital fee is closed at the end of each month and bills are issued at the middle of the next month.
Please pay the bill within one week of receipt at the Admission Accounts Counter or a payment machine (until 4:30 P.M.).