Arrival & Check-In
Check-in location depends on which unit you will be admitted to.
Admissions
General Ward Admissions
Check in at the Reception.
Please arrive at the hospital on time.
After check-in is complete, you will be shown to your wing.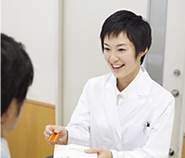 Pediatric Ward Admissions
Check in at Reception Window 15. You will then move to the Outpatient Department for a review of your medical history regarding infectious diseases and immunizations and if necessary, various tests may be administered. If you are considered eligible for admission, you may return to Reception Window 15. Your cooperation in the prevention of infectious diseases is greatly appreciated.
Patients being admitted to Bldg. 3 (South Ward)
Direct Admission

Please use the elevator located in the first floor entrance of Bldg. 3 (South Ward) to directly go to the staff station of the Inpatient Unit (5th and 6th floor).

You can ask the security officer at the entrance to help you with carrying your luggage if needed.
Please use the 1st floor elevator to proceed directly to a staff station on the 5th or 6th floor.

Admission via Building 2

Building 3 (South Ward) can be accessed from Building 2 via the walkway on the 2nd floor. Upon arrival, please use the 2nd floor elevator and proceed to a staff station on the 5th or 6th floor. If you need help with your luggage or need assistance, please visit the Admissions & Discharge center (Reception Counter 15), and hospital staff will assist you.
Hospital ID Band
For your safety, all inpatients are asked to wear a patient identification band (ID band) during their stay. Hospital staff will ask for your full name, and check your ID band before every examination, test, treatment, and surgery. Please inform a member of staff if you are alleric the material or have any problems wearing the ID band.
Upon discharge, the ID band will be removed and properly discarded.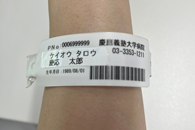 Parking Fee Exemption

Parking fees are waived for the day of admission on a one-car-per-patient basis. Please report to Reception Window 12 during check-in. The exemption is for the day of admission and does not apply to cars parked during your stay.