Overview
Keio University Hospital is dedicated to maintaining an unparalleled level of service. You can relax, knowing that our staff is united in providing personalized treatment and support throughout the entirety of your stay.
Please feel free to contact us if you have any concerns regarding your stay.
From Admission to Discharge
This page details items required for admission, during your stay, and upon discharge.
Please click one of the following for more information:
Building 3 (South Wing) Check-In.
Requesting Certificates
Medical records and certificates can be requested during your stay, or after discharge.
Please refer to the following information on where to apply for various records and certificates.
For hospital-specific forms / proof of hospitalization

If ordering during your stay, please visit your ward's staff station.
If ordering after your discharge, please consult with your primary physician.
For documents requested by life insurance companies, medical certificates required when claiming compulsory automobile liability insurance, and documents related to public funds (public assistance, workers' compensation, tuberculosis, medical rehabilitation services for disabled persons, rehabilitative treatment for disabled children, pollution, etc.):

Please apply at Reception on the 2nd floor of Building 2. (8:40 a.m. to 7:00 p.m. on consultation days)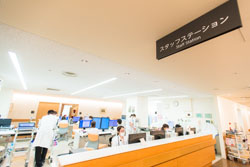 Application location varies depending on the type of form and time of order (i.e. during your stay or after discharge). For more information, please contact the Documentation Counter.
Please request any life insurance-specific forms from your provider in advance.
The Documentation Counter fields calls between 8:40 a.m. and 5:00 p.m. (03-5363-3531)