Hospital Overview
Keio University Hospital Mission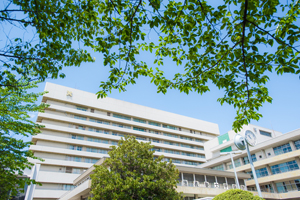 To provide compassionate, reliable, patient-centered health care.
To develop and provide advanced medical care and ensure its quality and safety.
To foster the development of medical professionals who possess intellectual depth and compassionate understanding.
To contribute to the welfare of mankind through ethical medical science and medical care.
About the Hospital
In July 1992 the Medical Service Law was revised, through which university hospitals providing advanced medical care were certified as "special functioning hospitals". Since February 1994 this hospital has also operated as a special functioning hospital. The goal of the revision was threefold: to promote the systemization of each medical center according to their areas of expertise, to resolve the skewed distribution of patients towards major hospitals, and to maximize efficient usage of limited medical resouces. Special functioning hospitals not only provide advanced health care services, but are also capable of medical research, development, evaluation, and training.
Hospital General Director
Morio Matsumoto
Vice Director
Mototsugu Oya, Junichi Sasaki, Hideyuki Shimizu, Masahiro Jinzaki, Tomonobu Hasegawa, Koichi Fukunaga
Assistant Director
Keisuke Asakura, Yuko Kaneko, Daisuke Fujisawa
Address
35 Shinanomachi, Shinjuku-ku, Tokyo 160-8582
Tel: (03) 3353-1211 (representative)
Centers & Departments

Internal Medicine (Cardiology, Pulmonary Medicine, Gastroenterology and Hepatology, Nephrology, Endocrinology and Metabolism, Neurology, Hematology, Rheumatology)

Surgical departments (general, gastroenterological, cardiovascular, thoracic, neurosurgery, pediactric)

Other facilities

Anesthesiology, Orthopedic Surgery, Plastic and Reconstructive Surgery, Pediatrics, Obstetrics, Gynecology, Ophthalmology, Dermatology, Urology, Otorhinolaryngology, Head and Neck Surgery, Neuropsychiatry, Radiation Oncology, Diagnostic Radiology, Dentistry and Oral Surgery, Rehabilitation Medicine, Emergency and Critical Care Medicine, General Medicine, Other Facilities, Apheresis and Dialysis Center, Institute for Integrated Sports Medicine, Center for Kampo Medicine, Division of Infectious Diseases and Infection Control, Center for Diagnostic and Therapeutic Endoscopy, Immunotherapy Center, Cancer Center, Memory Clinic, Palliative Care Center, Center for Medical Genetics, Center for Preventive Medicine, Keio Children's Hospital and Perinatal Center, Second Opinion Services

Hours of Operation
The hospital closes on the following days:
Sundays, 1st and 3rd Saturdays, National Holidays, New Year Holidays (12/30 - 1/4), University Holidays (1/10)
Outpatient Hours
We have implemented an appointment system to shorten wait times and provide the most appropriate care possible as a special functioning hospital. We appreciate your understanding and cooperation. For more information please visit the New Patients page.
For detailed information on how to make an appointment, please visit the Patient Guide page.
2019 Facts & Figures
871,454 outpatients (daily average: 3,252)
309,641 inpatients (daily average: 846)
16,536 emergency patients
Surgery Statistics
Surgery Statistics
Hospital beds
946 beds
Certified Medical Care

Advanced Treatment Hospital, AIDS Treatment Center Hospital, Regional Cancer Center Hospitalm, Emergency Hospital, Treatment under the Act on Welfare of Physically Disabled Persons*, Health Care Center under the Industrial Accident Compensation Insurance*, Disaster Base Hospital, Disaster Medical Assistance Team Hospital, Regional Perinatal Care Center, Designated Medical Institution for Type 2 Infectious Disease (Tuberculosis Modeling), Registered Organs for Transplant Hospital (liver, small intestine, kidney), Intractable Disease Treatment Program Designated Hospital

Advanced Medical Care
Please see Advanced Medical Care (Japanese)